Client Support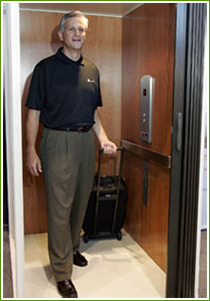 At DAY, customer satisfaction is our top priority. Client support is a key component of customer satisfaction. DAY Elevator & Lift serves the Tri-State area comprising New York, New Jersey and Connecticut, and as a leading elevator company we offer consistent, quality products and ongoing support for all our products. The home elevators we offer come from renowned manufacturers and can be customized according to individual requirements. Our indoor and outdoor home elevators are exceptionally reliable, safe and are stylish choices for floor-to-floor access.
Superior Client Service
Our knowledgeable consultants support thousands of users who rely on DAY.
End-to-end Service at Every Step of the Way
At DAY Elevator & Lift, we have a team of dedicated staff, highly skilled in finding the right elevators that would ideally meet your requirements, and perfectly matching the architectural structure of your homes. We can work closely with your architect or designer every step of the way; from design, installation to maintenance of the home elevators. No matter what your needs are, we provide quality support and meticulous attention to all client issues with a high level of commitment.

If you have any questions or concerns, feel free to contact our customer service team. Please fill out the Free Consultation Request form to schedule your free consultation. Our customer service representatives are at hand to answer your questions. Make a call to 1-800-758-5438 or email us at sales@dayelevator.com.
* For all home elevators purchased for medical necessity, please call us for special pricing on our home elevators used for medical necessity. We offer special rates on home elevators required for medical necessity.