Home Elevators New York

DAY Elevator and Lift is a New York based home elevator company serving the Tri-State area of New Jersey, New York and Connecticut. We are a reliable name in the industry since our inception in 1992. With a vision to provide customer-oriented services, we offer quality installation and maintenance services for any kind of home elevator model. We serve the major locations in New York including Staten Island, Nassau, Manhattan, Queens, Bronx, Brooklyn, Suffolk, Westchester and Rockland.
Home Elevators
for Indoor and Outdoor Use

We offer advanced models and types of residential elevators from leading manufacturers in the field. Our extensive product collection includes outdoor and indoor home elevators, designed to blend with your building architecture. The equipment we supply is user-friendly and designed with top safety features.

Extensive Product Listing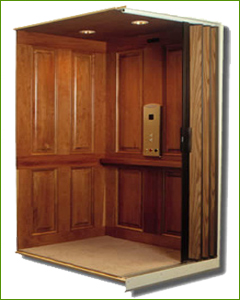 Make your residence fully accessible with our quality home elevators. The models available to our clients in New York include:
Quality Installation and Repair
We offer quality elevator installation and maintenance service for any type of home elevator. We perform Category 1 and 5 testing here. DAY also offers certified pre-owned home elevators with uncompromising standards of quality.
Call 1-800-758-5438 or send an e-mail to sales@dayelevator.com, for more information on the home elevators we offer in New York.
* For all home elevators purchased for medical necessity, please call us for special pricing on our home elevators used for medical necessity. We offer special rates on home elevators required for medical necessity.