Home Elevators Connecticut
A reputable home elevator company, DAY Elevator & Lift offers innovative models of home elevators in the Tri-State area of New York, New Jersey and Connecticut. As a trusted resource, we strive to deliver branded products, professional services and responsive customer support. Our client-focused services are available in all major locations in Connecticut including Litchfield, Fairfield, Middlesex, Hartford, New London, New Haven, Tolland, and Windham.
Wide Inventory of Stylish
Home Elevators
DAY's product inventory features a wide range of elegant and functional outdoor and indoor home elevators from well-known manufacturers. We can help you choose an elevator to suit your specific accessibility requirements and building specifications. The premium elevator models available for our clients in Connecticut are: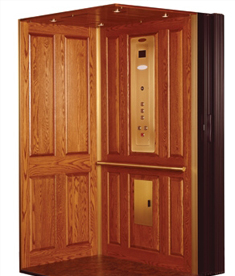 Designed with High-end Safety Options
We place top priority on user safety and comfort. All the home elevator units we supply are incorporated with user-friendly controls and advanced safety options such as emergency stop switch, obstruction sensors, door interlocks, in-car phone, emergency alarm and light, lockable control panel, slack rope safety system, and more.
Simple Installation and Prompt Maintenance Solutions
In addition to providing branded elevators for homes, DAY offers efficient installation and maintenance procedures. Our factory-trained technicians ensure trouble-free installation service as well as prompt inspection, maintenance and repair services. We also perform or witness Category 1 and 5 testing for residential elevators and manage all the filings with the Elevator Department Division.
For More Information
For more information on our home elevators for customers in Connecticut, please call 1-800-758-5438 or send an e-mail to sales@dayelevator.com. Besides brand new equipment, we also offer certified pre-owned residential elevator systems that excel in performance.
* For all home elevators purchased for medical necessity, please call us for special pricing on our home elevators used for medical necessity. We offer special rates on home elevators required for medical necessity.