Elevator Suppliers
DAY Elevator & Lift is a one-stop shop for different types of accessibility equipment. One of the well-known elevator suppliers in the Tri-State area of New York, New Jersey and Connecticut, DAY stocks a wide range of safe, functional, and stylish indoor and outdoor residential elevators.
Home Elevators
to Improve the Value of Your Home

A residential elevator greatly enhances the accessibility of your home and improves its value. It is a practical addition in most home as it offers elderly people, children and those with mobility issues safe and comfortable movement between multiple floors. A home elevator can also be used to transport heavy goods and groceries.

As a responsible elevator supplier, DAY supplies quality home elevator models from leading manufacturers such as ThyssenKrupp Access, Savaria and Federal Elevator.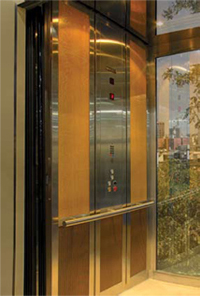 As elevator suppliers focused on ensuring our customers efficient mobility solutions at a competitive price, we also offer certified pre-owned residential elevators that cost less but work as well as new.
Efficient Post-sales Support
All of our residential elevators are user-friendly and come with premium safety features and customization options. Most models work on both electric power and batteries and can be set up without much structural modification on the building. DAY offers professional installation support for home elevators as well as quality post-sales service that includes maintenance, inspection and repair. We also perform or witness Category 1 and 5 testing for residential elevators and take care of all the necessary filings.

For more information, please call (800) 758-5438 or send an email to sales@dayelevator.com. Please fill in our online request form to schedule a free consultation.
* For all home elevators purchased for medical necessity, please call us for special pricing on our home elevators used for medical necessity. We offer special rates on home elevators required for medical necessity.