Home Elevator Costs
Make your home look elegant; install quality home elevators from DAY Elevator & Lift, a leading supplier of accessibility equipment in the US. Our home elevator costs vary depending on the elevator brand and model. At our elevator company, you can find a number of impressive brands and models of residential elevators suiting any architectural style and budget. Browse our range of premium elevators from the industry's named manufacturers including ThyssenKrupp Access, Savaria and Federal Elevator.
Home Elevator Cost
– Deciding Factors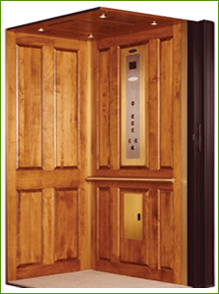 DAY Elevator & Lift provides you accessibility devices at competitive price tags. The exact costs of these name brand products vary with the features and type of the device. The loading capacity, type of material, finish, design of the cab, speed of operation, durability and the safety standards are some of the other factors that decide the cost of the products you buy from us. If you are looking for an elevator with more sophisticated features, the cost will be higher. In addition, customization process, if any, is also a deciding factor as regards the expense incurred.
Successful Installation and Maintenance Services
It is best to have the elevator installed during the construction stage of the house, since this is less expensive than installing one in an existing home. DAY helps you save your time and money with your new elevator installation. We have a team of highly skilled and trained professionals providing quality installation, repair and maintenance services, to guarantee the longevity of your home elevator. We offer services throughout the Tri-State area comprising New York, New Jersey and Connecticut.
Get Free Pricing Quotes
We can help you with your buying decisions and any questions you may have concerning the home elevator costs. Just use our free online consultation form and receive instant price quotes from us. For further information, call our toll free number 1-800-758-5438, or email us at sales@dayelevator.com.
* For all home elevators purchased for medical necessity, please call us for special pricing on our home elevators used for medical necessity. We offer special rates on home elevators required for medical necessity.