Elevators for Homes
DAY Elevator & Lift offers a wide range of premium indoor and outdoor elevator models to enhance the convenience of your home and improve its value. A one-stop elevator company in the Tri-State area of New York, New Jersey and Connecticut, Day's inventory includes elevators for homes from top manufacturers such as Thyssenkrupp Access, Savaria and Federal Elevator.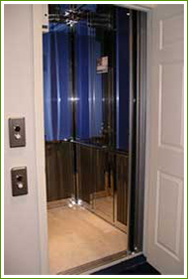 Home Elevators
for Comfortable Floor-to-Floor Access

The indoor home elevators we supply ensure smooth movement from one level to another, and make life a lot easier for your loved ones with mobility issues. We have indoor models that are compact, take up very little space and can be easily installed. Choose a sturdy elevator system with a good load capacity and you can even transport groceries, furniture and other heavy goods between floors.

Whether you are looking for a luxury home elevator or an economical model, DAY can meet your requirements. With automatic sliding doors, a reliable hydraulic system and whisper-quiet operation, a luxury elevator offers the ultimate convenience. On the other hand, a simple no-frills through-the-floor elevator is easy to set up and does not require a pit, machine room or hoistway. All the residential elevators in our inventory can be worked into a new building or retrofitted into an existing one.

Comprehensive Safety and Operational Features

Our accessibility equipment for homes comes with top-level safety features such as fully automatic operating controls, emergency stop button, in-cab alarm and telephone, emergency lighting, handrails, under-platform sensors, emergency battery-powered lowering, and much more. Choose from a range of elevator car finishes and customize your home elevator to match your home décor. We also offer certified pre-owned home elevators that work as well as new, but cost less.

Focused on customer satisfaction, DAY's professional services are available for the installation of your elevator as well as for inspection, maintenance and repair. Our efficient and prompt on-call service minimizes the downtime of your equipment.

For more information on our elevators for homes and a free assessment of your requirements, call 1-800-758-5438 or write to sales@dayelevator.com.

* For all home elevators purchased for medical necessity, please call us for special pricing on our home elevators used for medical necessity. We offer special rates on home elevators required for medical necessity.