Residential Elevators
An established distributor of accessibility devices, DAY Elevator & Lift offers safe, durable and stylish models of residential elevators. Our user-friendly accessibility equipment allows home owners to access the different floor levels of their residences comfortably. We are conveniently positioned in the United States, and serve the Tri-State area of New York, New Jersey and Connecticut
Exclusive Collection of
Home Elevators
DAY Elevator & Lift is committed to helping home owners, builders and architects select the right residential home elevators.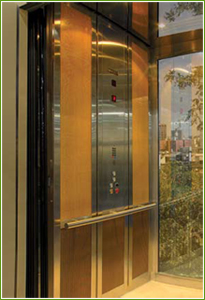 Our residential elevators are strong, durable and virtually maintenance-free. The indoor elevators we supply also serve to transport laundry, furniture, groceries and other materials between the floors.
We offer residential elevator systems from reputable manufacturers such as ThyssenKrupp Access, Federal Elevator and Savaria. Our premium home elevator models include:
Ensures Safety and Comfort
DAY's primary goal is to provide its clients safe and user-friendly accessibility options. We assure that all the products we supply come with easy-to-use controls and top-quality safety features. Our residential elevators feature the following safety options:
Slack chain safety device
Electro-mechanical door lock
Open door sensor
Pressure relief valve
Non-skid platform
Emergency alarm and stop buttons
Under-panel sensor
Call Us Today
DAY Elevator & Lift can help its customers choose and install home elevators to suit their needs and building design. We make an onsite assessment of your specifications and work with you, your architect or contractor to install it. Our certified technicians assure timely inspections and maintenance services to ensure excellent performance and reduce equipment downtime. We also perform Category 1 and 5 testing for your residential elevators and take care of all the necessary filings.
For more information on our home elevators and the other products we offer, please dial (800)758-5438 or write to us at sales@dayelevator.com. Please fill out the free request from to schedule your free consultation.
* For all home elevators purchased for medical necessity, please call us for special pricing on our home elevators used for medical necessity. We offer special rates on home elevators required for medical necessity.