Home Elevators
DAY Elevator & Lift, a leading distributor of accessibility equipment serving the Tri-State area of New York, New Jersey and Connecticut, offers safe and aesthetically appealing models of home elevators that ensure comfortable floor to floor movement.
Exclusive Models of
Residential Home Elevators
As a responsible provider of mobility devices, DAY Elevator & Lift has always offered its customers with products that excel in quality. The home elevators we supply are durable and practically maintenance-free. Our inventory of exclusive models of residential home elevators from leading manufacturers comprises: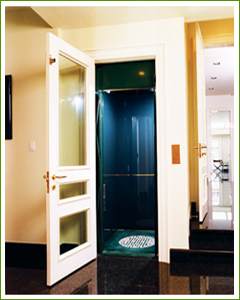 Our residential elevators ensure safe floor to floor access for the mobility impaired and offer them greater freedom and better self-confidence. Our indoor home elevators are also very useful when it comes to transporting laundry, groceries and furniture between floors.
High-end Safety Features
DAY Elevator & Lift gives top priority to your safety and comfort. The home elevators we supply come with the following safety features:
Non-skid platform
Slack chain safety device
Under-panel sensor
Electro-mechanical door lock and open door sensor
Emergency stop and alarm button
Pressure relief valve
Lockable control panel
Trouble-free Installation and Maintenance
DAY ensures a high standard of professionalism in all its services. We work with architects and contractors and help them choose the appropriate home elevators for the buildings they design or set up. We can help modernize or upgrade accessibility devices. Our certified technicians ensure trouble-free installation, and timely inspections and maintenance services for all models of residential home elevators. We also perform or witness Category 1 and 5 testing for residential elevators and take care of all the necessary filings.
For more information, please call (800) 758-5438 or send an email to sales@dayelevator.com. Our customer support service is available 24x7. Please use our online request form for a free consultation.
* For all home elevators purchased for medical necessity, please call us for special pricing on our home elevators used for medical necessity. We offer special rates on home elevators required for medical necessity.