ThyssenKrupp Access
ThyssenKrupp Access, a trusted name in the accessibility equipment industry, provides a wide range of safe and user-friendly solutions. DAY Elevator & Lift supplies a variety of premium home elevators models from this leading manufacturer.
ThyssenKrupp Access
Home Elevators
LEV Home Elevator

The LEV home elevator is designed with cutting-edge technology. It makes minimum intrusion to the living space as it does not require a separate machine room. The features of this compactly designed home elevator model are: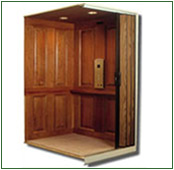 Door interlocks
In-car phone
Battery back-up system
Emergency alarms
Emergency stop switch
Wooden handrail to match wall panels
Digital floor position indicator
Telephone
Stainless steel or brass operating controls
Rise Elevator

The Rise is a pitless elevator from ThyssenKrupp Access. It comes in three different car sizes and offers eight different finishes. Its premium features and safety devices include: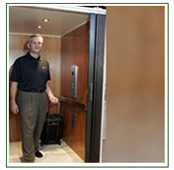 Automatic gate operator
Counterweighted Chain Drive or Hydraulic Drive
Accordion car gate(s)
Emergency stop switch
Digital floor position indicator
Hoistway door interlocks
Slack chain/rope safety
Emergency light and alarm
ETL listed components
Windsor Residential Elevator

Designed to combine convenience and practicality, the Windsor is a space saving home elevator model from ThyssenKrupp Access. It can fit into a standard closet-sized space and self-contained drive system that can be housed in a hoistway. The main features of this model are: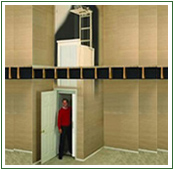 Interlocks for hoistway doors
White handrail
Telephone jack
Stainless steel telephone cabinet
Manual lowering device
Final and ultimate limit switches
Slack rope safety
Emergency stop button in car with audible alarm
31" wide threshold ramp
Volant Gearless Home Elevators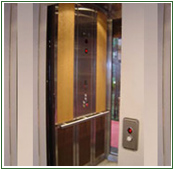 The Volant requires only a 12" pit below the floor and eliminates the need for a machine room. It comes in three standard sizes and offers several custom options. It uses the latest in "gearless" motor technology, which allows for the ultra smooth start and stop. Its premium features include:
5 different entry/exit combinations
Up to 5 stops
Car operating panel and hall stations
Emergency stop switch
Automatic car lighting
Digital floor position indicator
Minivator Elevator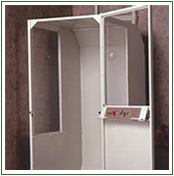 The Minivator is a 100% self-contained unit, that does not require a pit, machine room, or hoistway that would take up your valuable living space. This ThyssenKrupp Access home elevator comes with user-friendly features such as:
Easy-to-operate controls
450 lb. capacity
Key locks
Emergency stop button
Telephone access
Ivory finished steel wall panels and Plexiglass windows
Call Us Today
Call us at 800-758-5438 or write to sales@dayelevator.com for more about the ThyssenKrupp Access products we supply, and our special pricing for home elevators used for medical necessity. Our services are available anywhere in the Tri-State area of New York, New Jersey and Connecticut. Our professional services are available for elevator installation, maintenance, testing and repair.

* For all home elevators purchased for medical necessity, please call us for special pricing on our home elevators used for medical necessity. We offer special rates on home elevators required for medical necessity.