Panorama Elevator
DAY Elevator & Lift is a one-stop destination for all your home elevator needs. A premium model in our extensive product line, the Panorama elevator from Federal Elevator is specially designed to add more comfort and functionality to your residences.
Panorama
Residential Elevator
to Enhance Your Home

The Panorama residential elevator ensures quiet, smooth and dependable operation. It can be installed in new or existing homes. It is fully featured for superior performance: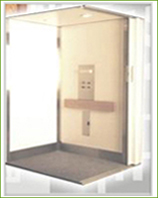 1000 lbs. (454 kg) rated load
50 fpm (0.25 m/s) maximum speed
60 ft. (18.29 m) maximum travel
1:2 cable hydraulic drive
Instantaneous safety device
8 stops maximum
Stainless steel control panel
Stainless steel trim
Automatic controls CSA/UL listed
Accordion or scissor style car gates
Emergency battery lowering and car lights
Manual or automatic swing entrances
Hydraulic pump unit of compact design
With its heavy load capacity, this elevator also allows you to move groceries, laundry, furniture, and other material from floor to floor with ease.
The unit is available in a range of finishes and color options. The residential elevator comes in hardwood or veneer finish and has a manual solid folding gate with wood grain panels and bronze trim.
Quality Installation and Repair
We ensure that our Panorama home elevators are free from manufacturing defects and deliver lasting performance. To keep your equipment working flawlessly, our certified technicians provide quality installation, as well as repair, testing and maintenance service. We also perform Category 1 and 5 testing. Our services are offered throughout the Tri-State area of New York, New Jersey and Connecticut.
Call Us Today
For any assistance with your Panorama elevator, please contact us at 1-800-758-5438, or send an email to sales@dayelevator.com
Federal Elevator Models:
* For all home elevators purchased for medical necessity, please call us for special pricing on our home elevators used for medical necessity. We offer special rates on home elevators required for medical necessity.