Renaissance Elevator
As a leading home elevator company, DAY Elevator & Lift offers the Renaissance, a premium elevator model from Federal Elevator. This unique accessibility solution blends style with functionality, and greatly improves the value of your home.
Renaissance
Home Elevators
- Features and Specifications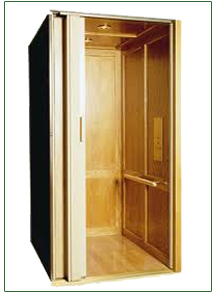 Listed below are some of the standard and optional features of the Renaissance Luxury home elevator:
1000 lbs. (454 kg) rated load
Up to 50 fpm (0.25 m/s) maximum speed
Up to 60 ft. (18.29 m) maximum travel
7 stops
Automatic controls CSA/UL listed
1:2 cable hydraulic drive
Instantaneous safety device
Emergency battery lowering and car lights
Hydraulic pump unit of compact design
Uninterrupted battery back up
Programmable Logic Control (PLC)
Renaissance Elevator – Contemporary Design
The Renaissance has a contemporary design and includes several customizable features. It offers a choice of interior panels in flat, unfinished natural wood veneer and melamine. Its glass/stainless steel or glass/wood cabs walls are ideal to usher in an ultra modern look. The Renaissance's distinctive recessed or raise wood cabs can add to the luxurious appeal of your residence. It comes with two/three speed, bi-parting, clear, metal and three vision Accordion gate cab options, and fixtures in stainless steel, brass or bronze. For lasting performance, the cab platform comes in quality steel pan construction.
Proper Installation and Servicing
DAY's goal is to provide you with quality mobility solutions that work without a hitch. Our factory trained technicians provide installation service as well as timely maintenance and repair service. DAY also witnesses or performs Category 1 and 5 testing for elevators.
Contact Us
DAY's services are available in the Tri-State area of New York, New Jersey and Connecticut. Call us at 1-800-758-5438 or send an email to sales@dayelevator.com for more information on the Renaissance residential elevator and other models we supply. Fill out the consultation form to schedule a free appointment with us.
Federal Elevator Models:
* For all home elevators purchased for medical necessity, please call us for special pricing on our home elevators used for medical necessity. We offer special rates on home elevators required for medical necessity.