Eclipse Home Elevator
DAY Elevator & Lift is a dependable home elevator company based in New York, offering quality residential accessibility solutions for contractors, builders and homeowners. The Eclipse from Savaria is a compactly designed residential elevator that adds more value and convenience to your home.
Eclipse
Home Elevators
- Complement your Home Decor

The Eclipse residential elevator can be easily installed in new or existing homes. It occupies minimal space and does not need a separate machine room. You can customize it to complement your home décor. Options available for the interior include standard melamine, wood veneer and a luxurious hardwood finish. The cab flooring comes in colors such as cherry, maple or oak.

Make a Smooth and Stable Ride

With door interlocks, alarms, phone, and cable safety devices, the Eclipse is built to ensure a safe and smooth ride. The other features and specifications of the Eclipse residential elevator are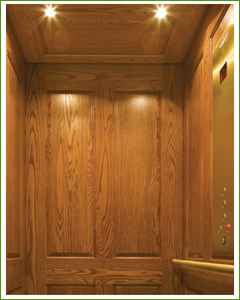 Battery emergency lowering and lighting
Manual lowering, hand crank
Motor brake
Lockable control panel
Stop switch in car
In-use indicator lights on hall stations
Alpha numeric button marking
Slack chain brake system
Buffer springs
1000 lb capacity
Machine room-less with controller in hoistway
Digital display in car operating panel
Energy efficient variable speed motor drive
Modular rail sections for quick install
Automatic cab on/off lighting
36 months parts warranty
Efficient Installation and Repair Service
As your reliable home elevator company, DAY offers quality customer service. Our certified technicians will come to your home, assess your requirements and install your Eclipse. Besides ensuring timely repair and maintenance service, we also witness or perform Category 1 and 5 testing, and take care of necessary filings. Our services are available throughout the Tri-State area of New York, New Jersey and Connecticut.
Call Us Today
Feel free to call us at 1-800-758-5438, or send an email to sales@dayelevator.com for more information on the Eclipse elevator and the other products we supply.
Savaria Home Elevator Models:
* For all home elevators purchased for medical necessity, please call us for special pricing on our home elevators used for medical necessity. We offer special rates on home elevators required for medical necessity.