Infinity Luxury Elevator
DAY Elevator & Lift is a New York based home elevator company offering quality mobility equipment from leading manufacturers. Our inventory includes the Infinity, a premium luxury home elevator from Savaria. We can help home owners, builders and architects with the installation of this elevator as well as its maintenance.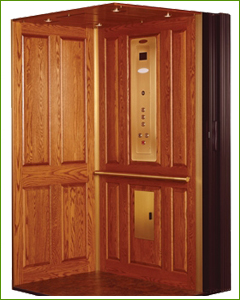 Infinity
Home Elevator
– Featured for Relaible Operation

Driven by a reliable hydraulic drive system, the Infinity home elevator is known for its smooth ride and whisper quiet operation. While Infinity's standard unit comes with melamine walls, this model is also available in wood veneer or raised cherry panel finishes. The cab operating panels come in stainless steel, clear or bronze anodized aluminum with illuminated buttons. The Infinity's quality construction features include good loading capacity of up to 1,000 lbs, and travel capacity of 50 feet with a possibility of 6 stops.

Standard Features
Automatic swing door openers
Automatic gate openers
Two exit openings at one landing
Magnetic floor selection
Submersible pump and motor
Variable speed pressure valve
Other standard features: fully automatic operation, automatic cab on/off interior lighting, digital display in car operating panel, white ceiling with 4 down lights, melamine interior walls in choice of colors.
Safety features: battery-operated (UPS) emergency lowering and lighting, manual emergency lowering button, lockable control panel, elevator door interlocks, emergency stop switch, in-use indicator lights on hall station, slack rope safety system.
For More Information
To enhance your home's accessibility and value with an Infinity luxury home elevator, call 1-800-758-5438 or send emails to sales@dayelevator.com. Our services are available throughout the Tri-State area of New York, New Jersey and Connecticut.
Savaria Home Elevator Models:
* For all home elevators purchased for medical necessity, please call us for special pricing on our home elevators used for medical necessity. We offer special rates on home elevators required for medical necessity.