Telecab Elevator
As a premier home elevator company in the US, DAY Elevator & Lift offers quality mobility solutions to overcome accessibility challenges in residences. Our product line includes the premium Telecab home elevator from the leading elevator manufacturer, Savaria.
Modern design that blends into Your Home Décor
The Telecab is quick and easy to install, and an economical option to improve the architectural appeal of an old or new home. This two-stop, space-saving elevator has a modular construction with a guide rail system. It does not need a hoistway or an under-unit pit, and its enclosed drive tower keeps mechanical components safe and out of sight.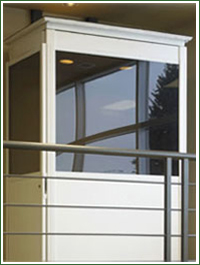 Telecab
Home Elevator
- Standard Features
Cab interior - 30" by 46" (76.2 cm x 116.8 cm)
Load capacity - 500 lbs (227 kg)
Emergency stop and alarm buttons
Battery lowering in case of power failure
Telephone
Non-skid platform
Under-pan sensor to stop the unit if it meets an obstruction
Pressure relief valve to prevent platform overload
Electro-mechanical door lock
Slack chain safety device
Continuous pressure push buttons
Interior with lighting and beige or white power finish
Window panels - clear or bronze-tinted acrylic
Contact Us
DAY provides professional elevator installation, maintenance, testing and repair services for our vast clientele of homeowners, builders and architects in the Tri-State area of New York, New Jersey and Connecticut. For more information on the Telecab home elevator and the solutions we offer, call 1-800-758-5438 or send an email to sales@dayelevator.com.
Savaria Home Elevator Models:
* For all home elevators purchased for medical necessity, please call us for special pricing on our home elevators used for medical necessity. We offer special rates on home elevators required for medical necessity.