Minivator Elevator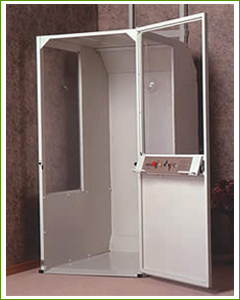 DAY Elevator & Lift is a leading supplier of premium elevators and lifts serving the Tri-State area of New York, New Jersey and Connecticut. Our wide inventory includes the Minivator, a quality home elevator from the top brand, ThyssenKrupp Access. This unique elevator model can be easily installed without much structural modification in your home.
Minivator – Space-Saving and Stylish
Home Elevator
Minivator is 100% self-contained unit designed for quick installation. It is ideal for your home if you:
Have space constraints
Do not want or cannot have structural modifications in your building
Are not looking for a high-end, expensive accessibility solution
Need speedy installation
The Minivator is compact, easily concealed and does not need a pit, machine room, or a hoistway. It is wheelchair accessible, can carry a load of up to 450 pounds and enables you to safely walk on to the floor cover.
The wall panels of the Minivator are ivory finished steel and blend seamlessly with any home décor. Its Plexiglass windows allow passengers to view even the outside of the cab. The Minivator residential elevator car rides on two steel rails mounted to the wall, and passes through an easily constructed opening between two floors.
Operating Controls and Safety Features:
Electromechanical car door interlock
Grab handles on car door
Emergency stop button and alarm
Slack cable safety device
Upper landing hatch cover with safety sensors
Upper final limit switch
Open door sensor
Safety sensor under car
Constant-pressure push button car and landing control buttons
In-cab telephone
Key locks in the unit and hall stations to prevent unauthorized access
Timely Installation and Maintenance
DAY offers quality installation for your Minivator, as well as professional maintenance and repair services by a team of factory trained technicians. We also perform Category 1 and 5 testing.
Get in Touch with Us
For more on the Minivator and the other products we supply, call 1-800-758-5438 or send an email to sales@dayelevator.com.
ThyssenKrupp Access Home Elevator Models:
* For all home elevators purchased for medical necessity, please call us for special pricing on our home elevators used for medical necessity. We offer special rates on home elevators required for medical necessity.