Volant Gearless Home Elevators
DAY Elevator & Lift is a well-known dealer in elevators and other home accessibility equipment. Our inventory of premium home elevators includes the Volant, a popular model from ThyssenKrupp Access. This gearless residential elevator is an ideal blend of quality workmanship and unrivaled comfort.
Volant
Home Elevator
- A Blend of Beauty and Functionality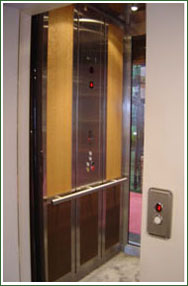 The "gearless" motor technology used in the Volant supports its ultra smooth start and stop, and allows whisper-quiet operation. The gearless drive system does not require a machine room. All you need to set it up is a 12" pit below the floor. The gearless technology also help to slash energy usage as it avoid the need for hydraulic fluids and pump that can break down or leak.
Volant is equipped with a range of safety features to make vertical transportation within your home more comfortable. It comes complete with:
Accordion car gate(s)
Two recessed halogen car lights
Car operating panel and hall stations
Emergency stop switch
Automatic car lighting
Digital floor position indicator
SoftStart and SoftStop technology for gentle landing and movement
Programmable Logic Controller (PLC) to notice potential problems before they occur
ETL listed components
Equipped with standard safety devices: hoistway door interlocks, a slack rope/rope safety to stop and hold the elevator car, and an emergency light and alarm.
Standard 2 year warranty
The Volant gearless home elevators come with a range of customizable options such as five car configurations, three car heights, and five car packages. It can travel up to 50 feet with service up to five stops.
Quality Installation and Maintenance
DAY's goal is to offer quality products and services for its wide range of customers that include homeowners, architects and contractors. Our certified technicians provide quality installation as well as necessary maintenance and repair services for your Volant home elevator. We also witness or perform Category 1 and 5 testing.
Call Us Today
Call 1-800-758-5438 or write to us at sales@dayelevator.com to add a Volant to your new home during the construction stage, or install it in your existing house.
ThyssenKrupp Access Home Elevator Models:
* For all home elevators purchased for medical necessity, please call us for special pricing on our home elevators used for medical necessity. We offer special rates on home elevators required for medical necessity.