Rise Elevator
DAY Elevator & Lift, a leading supplier of accessibility equipment in the Tri-State area of New York, New Jersey and Connecticut, offers Rise, a novel pitless elevator from ThyssenKrupp Access. An attractive long-term investment that adds convenience to your settings, this luxury elevator is specially crafted with a range of user-friendly features to enhance the value of your home.
The Rise
Home Elevator
– Features and Specifications

The Rise is re-engineered from the ground up to sit right on the first floor with need for a pit. This means that it can be easily set up without much modification to your home. It can span up to five stories and takes up only one-fourth the square footage of a staircase. The SoftStart and SoftStop technology of the Rise ensures gentle landing and movement when the lift begins to move or if it comes to a stop automatically.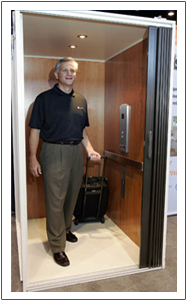 The main specifications and features of the Rise residential elevator are:
950 lb capacity
2 to 5 stops
Travel distances up to 50'
ETL listed components
The Programmable Logic Controller (PLC)
Counterweighed chain drive or hydraulic drive
Equipped with standard safety devices: a slack chain/rope safety to stop and hold the elevator car, hoistway door interlocks, and an emergency light and alarm
Uninterruptible power supply
Floor selectable battery lowering
Standard 2 year warranty
Customizable Options
Three car sizes
Eight different melamine or wood veneer finishes
Brass or stainless steel accents
Automatic gate operator
Efficient Installation and Maintenance
DAY provides professional installation, repair and maintenance services to keep your mobility equipment running smoothly and efficiently all the time. We also provide Category 1 and 5 testing as part of our services.

Call Us Today
If you wish to know more about the Rise elevator, please call (800) 758-5438, or send an email to sales@dayelevator.com.
ThyssenKrupp Access Home Elevator Models:
* For all home elevators purchased for medical necessity, please call us for special pricing on our home elevators used for medical necessity. We offer special rates on home elevators required for medical necessity.