Windsor Residential Elevator
DAY Elevator & Lift is an established supplier of quality mobility products from the industry's leading manufacturers. Our vast inventory of home elevators features the highly popular Windsor residential elevator from the trusted brand, ThyssenKrupp Access. The Windsor offers you the luxury of a home elevator without much expense or hassle.
Windsor
Residential Elevator
- Compact and Convenient

The Windsor eliminates the need for a machine room or costly pit construction. The space-saving elevator car can rest on the floor at the bottom landing.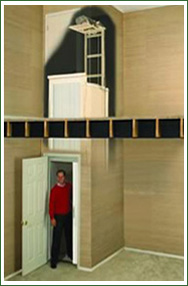 It is spacious enough to accommodate a wheelchair, has a high lifting capacity and ensures a quiet, smooth ride. The Windsor is featured for safety and flexibility, and offers:
Fully automatic controls
Self-contained drive system
Two access electric strike interlocks
Telephone jack
Manual lowering device
Final and ultimate limit switches
Slack rope safety
Emergency stop button in car with audible alarm
31" wide threshold ramp
Surface mounted light with on-off switch
Wall panel options – white or light oak laminate
Standard interior doors that blend seamlessly with the environment
Professional Installation and Maintenance
DAY is committed to providing personalized customer service. Our team of certified technicians offers professional installation, repair and maintenance services so that your equipment functioning flawlessly all the time.
Contact Us
For more information about the Windsor home elevator and other accessibility equipment we supply, call (800) 758-5438, or send an email to sales@dayelevator.com. Our services are available in the Tri-State area of New York, New Jersey and Connecticut.
ThyssenKrupp Access Home Elevator Models:
* For all home elevators purchased for medical necessity, please call us for special pricing on our home elevators used for medical necessity. We offer special rates on home elevators required for medical necessity.