LEV Home Elevator
DAY Elevator & Lift takes pride in providing premium quality home elevators as a practical solution to mobility barriers in residences. The LEV home elevator from ThyssenKrupp Access is a top selling model that can improve accessibility within your home as well as its aesthetic appeal and value.
Lev
Residential Elevator
- Safe and Comfortable Access

The Lev residential elevator is designed to provide smooth, safe and comfortable access to all levels of your home without taking up your valuable living space. With its compact design, self-contained drive system and shallow pit (only 6"), this home elevator can be installed in anywhere in your residence. The counterweighted chain drive system makes it an energy efficient model. It has good loading capacity of 950 pounds, and can function at 40fpm speed. Some of its other features and specifications are: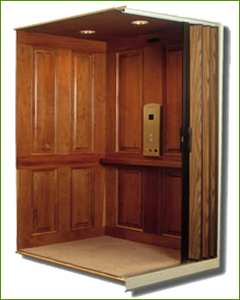 Emergency stop switch
Doors with safety interlocks
Emergency alarms
In-car phone
Capable to serve up to 5 floors
Counterweight safety device
Fully automatic operation
Automatic car lighting with constant on switch
Automatic hoistway door operator
Remote machine room elevator controller
Car gate safety switch
Battery back-up system for lowering and lighting of the car during power outages
External modem for remote diagnostics
Programmable Logic Controller (PLC) with Intel© digital signal processor
To improve the visual appeal of your interiors and blend seamlessly with your home's décor, the LEV home elevator comes in wall panel finishes such as:
Veneer (oak, cherry or birch)
Raised wood (oak, cherry or birch)
Inset wood (oak, cherry or birch)
Melamine (champagne, light oak, dark oak or white)
Quality Installation and Maintenance
DAY is committed to upholding standards of true professionalism in its services. As a leading home elevator company in the Tri-State area of New York, New Jersey and Connecticut, we provide quality installation, maintenance and repair services for your Lev home elevator. The equipment comes with a full two-year parts warranty.
Call Us Today
Call at 1-800-758-5438 or email us at sales@dayelevator.com, for more information about the LEV home elevator and professional installation service.
ThyssenKrupp Access Home Elevator Models:
* For all home elevators purchased for medical necessity, please call us for special pricing on our home elevators used for medical necessity. We offer special rates on home elevators required for medical necessity.